How to customize a WordPress site like a pro
This post is mainly for newbies bloggers who want to know how to customize their WordPress site but don't know how to start or go about it. This post is also for those who want to customize their website but have little budget to hire a professional website designer that will design their website the way they like.
So, if you want to learn how to customize a website for your new site or for any other purpose using WordPress, look no further because this post will teach you how to design a website like a pro.
NOTE: this post is for only those who are using WordPress. If you use blogger, you can check other posts about blogger website designing.
What is website designing??
Website or web designing is the process of changing the look of your site into your own taste. It involves customizing the layout and structure of the entire site and makes it more user friendly. Normally, everyone wants to design his/her site in their own way, but not everybody has the skill and technical knowledge to do that. So they resolve to web designers or web developers that will get the job done for them.
As a newbie in blogging, attempting to design your own site can be so challenging, especially when you don't have any prior knowledge about web design. This makes some bloggers get frustrated to the extent of giving up.
But in this post, I will teach you how to design your website without the help of a professional web designer.
Most WordPress users, especially the newbies, don't know how powerful WordPress is, so this post will show you how to easily customize a website. You will also learn the basic strategy in customizing a website. So, I am certain by the time you are done reading this guide, you will have a beautiful and customized site you built by yourself.
Let's get the ship sailing..
How to customize a WordPress site
If you want to design a website like a pro, then follow these basic steps.
1. Choose a theme of your choice
WordPress has a bunch of themes to choose from. In fact, as a newbie, you can easily get confused about the theme to choose. WordPress has hundreds of themes. This is what makes it unique and different from a Blogger. Choosing a theme is the first step in customizing a site.
2. Make your homepage static
Make sure to use a static homepage when customizing a theme. For instance, you want to start a book revision website, your homepage can include an email sign-up form where you get more leads and then include some posts that would show afterward.
This change is simple to make through your WordPress admin dashboard. Just go to the settings, hover to "Reading" and change the homepage setting to a static page.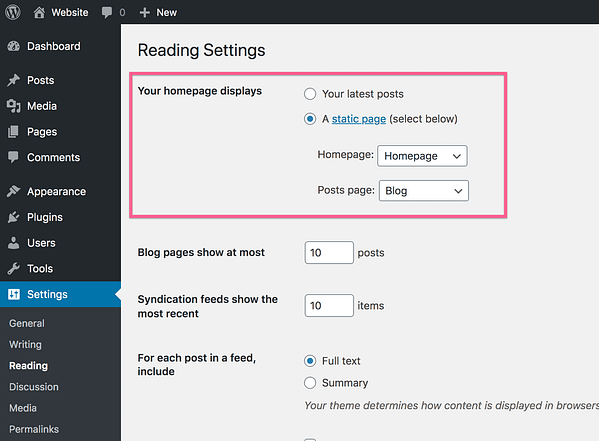 You need to publish a post first.
3. Create a custom homepage
There are page building tools you should use to create a custom homepage. You can use any of the page builder plugins like Elementor to create a custom homepage. To get started, just download and install the Elementor plugin from the WordPress directory, go to a page and click on the "Edit with Elementor'' button to launch the editor. This will take you straight to the screen. On the left side are the various widgets which you can use to customize a page.
4. Add social icons
If you want people to follow you more, adding a social icon is a must. It makes your site look unique and allows users to easily share your post.
Most WordPress themes are built with social icons. So, you don't need to do much work here.
While adding social icons is important, what is more important is adding social sharing buttons.
In WordPress, users tends to engage more with your post if you add social buttons, either before the content or after the content. To add a social sharing button, the most simple and recommended way is to use a plugin like Scriptless Social Sharing.
The plugin will automatically add the sharing buttons to all your posts.
Top 7 Free Blogging Tools You Really Need As A Blogger
5. Add a contact form
This step is how to add a contact form on WordPress.
Adding a contact form to your site is very important in case people want to get in touch with you.
To add a form, I will recommend you use a plugin like WPForms. It is very easy to use, and you can customize it the way you like. Download WPForms, install and activate it.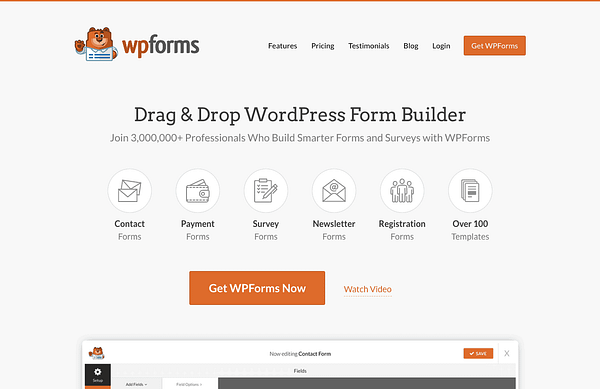 Upon activation, it will show you a prompt to create a new contact form, click on it and start creating your first contact form on WordPress.
6. Create an "About Us" page
In this step, make sure you add an "About Us" page, including any other pages that will help your site grow. This is one of the most important aspects in site customization.
To add a page, hover to your admin dashboard, click on "Page" then select "Add New" and give your page a title name. For example, you can name the "About Us" page. After that, write the page description and then hit publish.
7. Set your favicon
Favicon is a very important tool when it comes to website customization. You will have the opportunity to choose your own blog or business logo as your favicon icon.
This tool allows the logo to appear in any browser tab including your site address.
To add a favicon, head over to site customization through the appearance tab of your WordPress admin dashboard. Favicon is also called "Site Icon" by the WordPress interface.
So, you will locate "Site Identity", scroll down and select any logo you want to use as your favicon. Don't forget to hit publish once you are done.
8. Write your display name
When reading a post, you see "Admin" as the author of the post.

This is not professional. Writing your name as the author of the post will certainly improve your brand and make your site look professional.
To change this, hover to settings > users > your profile menu.
After doing that, hit the save button. This change will reflect instantly across your entire site.
So, now you know how to change your display name. The next step is how to display a custom avatar.
9. Display a custom avatar
You don't want WordPress default avatar to display next to your new display name.
You can change this setting using Gravatar. So, by the time you add an image there, it will show on your site. The best method is to integrate Gravatar with your theme, and then sign-up with your email address and upload an image to associate with it. You are done.
10. Customize your footer text
Most WordPress themes include a brief design that gives credit to the owner of the website at the footer widget area.
These themes allow the option to remove the default copyright text without writing a code, and include a simple option in the customizer to change it the way you like.
The copyright text can be anything you like, with a symbol like this— ©.
Conclusion
Thanks for reading this post. In a recap, this post is about how to customize a WordPress website like a pro, and I am very certain by now you should be able to customize your site without having to look for a professional web designer that will give you the type of job you need.